Opening Week in the April Showers!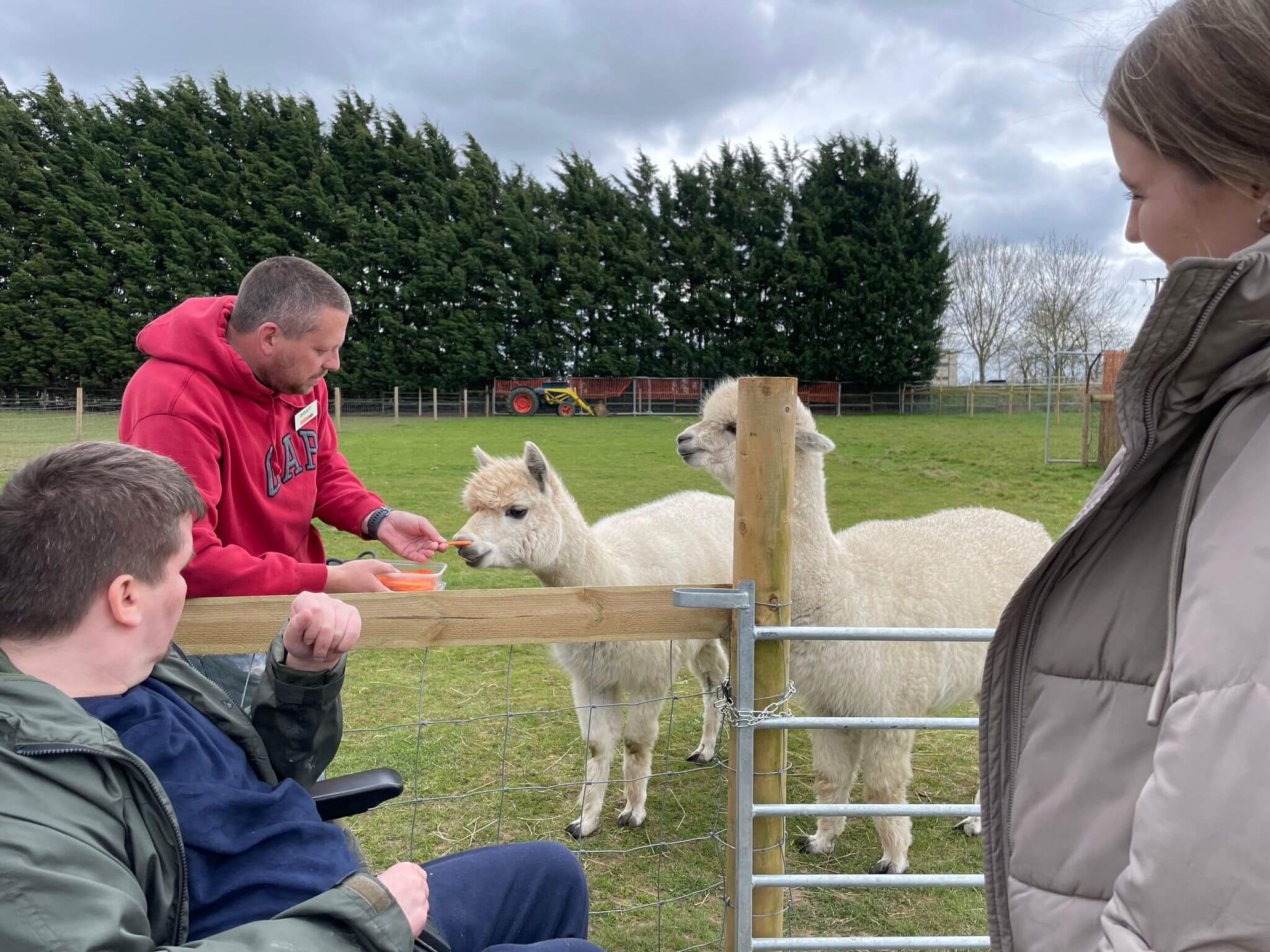 So as expected the weather did not in fact behave, but it's been a fantastic week regardless! We've had some wonderful feedback this week, it makes standing in the April showers for 4 hours a day worth it – of course we couldn't expect the animals to if we weren't willing.
This week we had some lovely visitors from Sense in Holbeach, which is a supported living scheme that aims to enable disabled people with complex communication needs to feel included and part of their community. They're a great group of people and it was a pleasure seeing them enjoy feeding and stroking the animals. Everyone who visits us gets a pot of food, however I think we lost track of how many pots they had as they were enjoying feeding the animals so much they kept running out! It was also a great test for us to see if we lived up to our promise of catering for the disabled, after receiving feedback we're happy to say the terrain and walkways worked well for those who required a wheelchair. We look forward to offering more fulfilling experiences such as this as the weeks progress this season, and of course we're always open to feedback as we want to ensure the farm is as inclusive as possible!
All us volunteers love meeting new people and this week, would you believe it, we also had a young visitor from Scotland! This year we are taking a new approach to the touring we did last season. Upon arrival you will be a given a pot of food made fresh that morning, this will be a variety such as carrots, lettuce, apples, bread, cabbage, depending on the day of course. Those who visited us last year know this has not changed. You will then be shown through the petting barn, introduced to perhaps some goats, sheep, one of the ponies, being given all the info on each one by our knowledgeable volunteers. However, this is where it differs, leaving the petting barn, you will then be free to walk around from animal to animal, being greeted at each station by a volunteer, looking after the animals, showing you how to pet them and what they like to eat. So far this has worked well, we have found it allows you to have more freedom to walk round and ensures each animal has someone with them keeping them groomed, not eating the wrong veg, and most importantly happy!
Among the many revamps this year, the guinea pigs now have a new petting area! After a stroll round the farm, meeting all the animals, visitors may circle back to the barn, wash their hands, and have some guinea pig cuddles. This prevents any germs being passed on to the smaller, more vulnerable guinea pigs. Speaking of smaller animals; the babies, Tokyo and Oshu, although weary at first soon warmed up to the visitors. With the guidance of Tiny Steps veterans Bubble and Squeak they were bounding up to the fence to greet visitors in no time! One lucky girl at the end of the day even got to go in their pen, with one of our volunteers, to have a cuddle and picture with Tokyo who had been following her up and down the whole day!
It's been so fantastic seeing our farm back open and our animals embraced once again. If you wish to visit please book on the website, and as always we welcome feedback! Don't let the weather faze you, the animals are made of stern stuff and will welcome you regardless… plus there's nothing like a pony or donkey cuddle to warm you up!