Summer is Officially Shear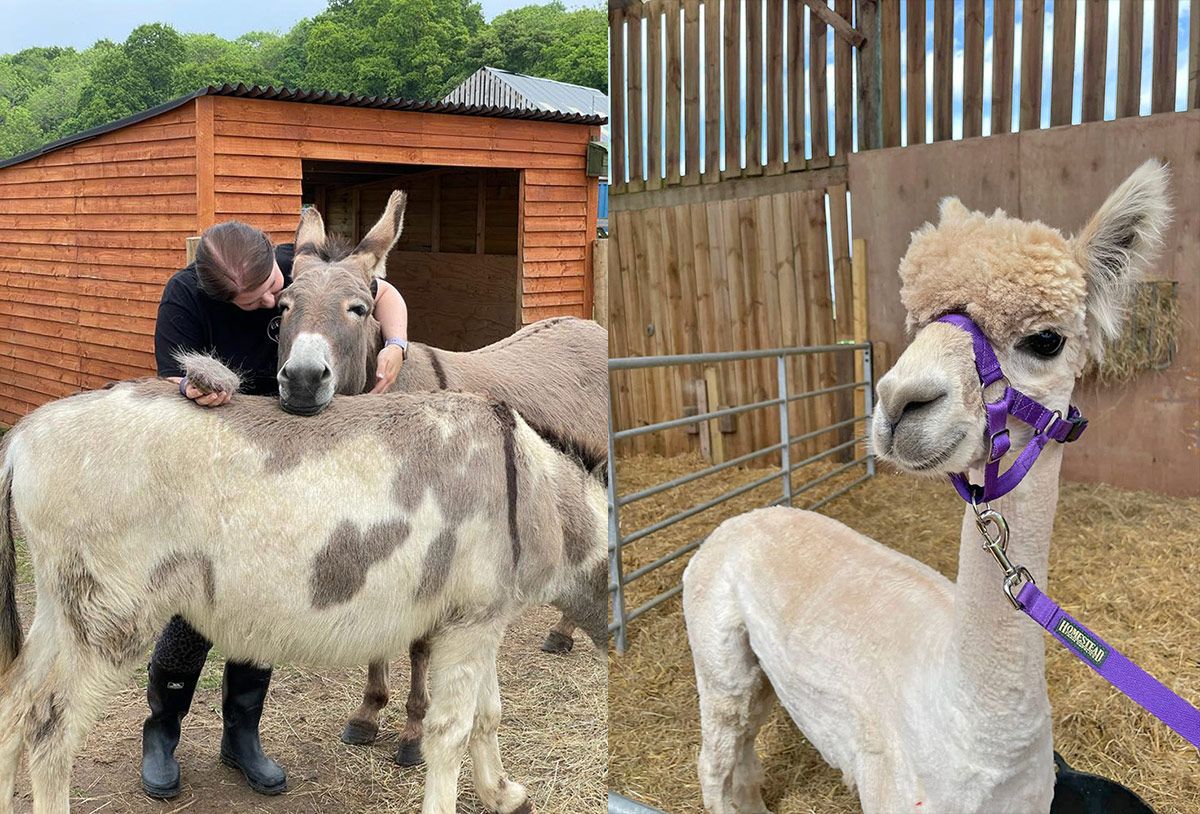 In case you hadn't guessed it… our alpacas were sheared this week for Summer.
Ben our shearer and colleague was incredibly efficient, kind, and gentle with Vincent and Valentino.
He said the boys were so well behaved, a good weight, and are now in perfect condition. Vincent was practically angelic having his teeth trimmed as well so he'll be much more comfortable from now on when he feeds. Hopefully now they've lost their woolly coats they won't feel the need to paddle in their water bowl anymore!
We had our very first goat meet and greet this week and by all accounts it was a total success. Our volunteers Lucy and Kye were a fount of knowledge when it came to the goats, so the visitors hopefully learnt something new as well as having fun of course!
For those who don't know, the goat meet and greet can be booked through our Facebook Messenger for an hour slot and it entails meeting all the different goats, grooming, and spending one on one time with them. After a cuddle you can then walk with them in the big field with a small agility course, with the guidance and expertise of one of our volunteers. Then it's back to the pen for more fussing with the baby goats and Golden Guernsey's, finished off with a lovely mug with our goats on as a special gift.
Even baby Dave has been getting involved, we're finding he's much like the baby goats in that he's fascinated by new things, so he's had a go at being lead as well and he's doing marvellously. But of course, he's still being his cheeky self; when helping volunteer Kayleigh poo pick in the field, he thought it would be best if he looked after with wheelbarrow for her by jumping in it… it's safe to say Dozier's rubbed off on him.
On Saturdays from 11am to 1pm we have started to take bookings for arts and crafts for those who have booked Saturdays, but we hope to open up more sessions in the Summer Holidays. We had a visit from Thurlby Primary School last week for our first arts and crafts experience and the children really got stuck in, there's definitely a Picasso or two in the making! They can pick to either paint a moulded farm animal of their choice or a moulded tractor, or a key ring, and the sessions are suitable for any age. We thought we'd give it a go as it's just something different and creative they can do whilst still enjoying the outdoors: win, win, win!
The animals are now losing, if not completely lost, their winter coats so it's the perfect time to visit and give them a fuss and a brush. Our donkeys especially are looking a lot less fluffy but I'm sure they could use a hand brushing out the last few hairs! Once the donkeys and alpacas have had a bit more practice we look forward to promoting a meet and greet experience for them also, but it's safe to say the goats won't disappoint in the meantime!